Results for Chino Valley #CVRestaurantMonth
Thank you to all those who participated in our first ever #CVRestaurantMonth.
Due to COVID-19 we wanted to do something to support our local restaurants, because we know how challenging it has been for them.
Catalyst for Business Growth
The Chino Valley Chamber of Commerce purchased $80 in gift cards per restaurant(21 restaurants) which totaled $1,680 given out as prizes for community members who participated in #CVRestaurantMonth. So Cal Gas purchased approximately $9,000 in gift cards from #CVRestaurantMonth restaurants to give to needy seniors.
Some of our larger businesses like Transtech purchased more than $1,000 in food from local restaurants to give to first responders. We also tracked more than $2,000 generated for local restaurants from our proactive social media users.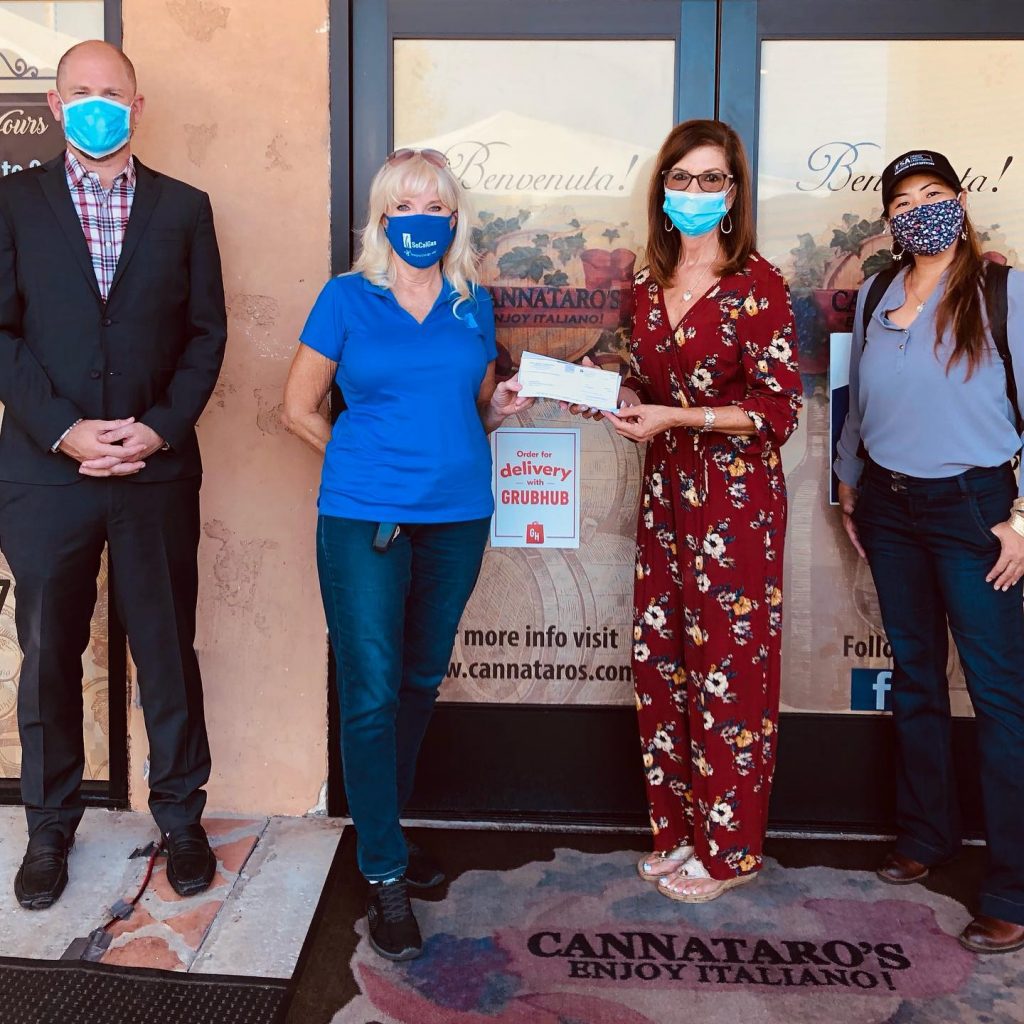 In total, we estimate that at a minimum we generated at least $13,680 of business for restaurants participating in #CVRestaurantMonth.
Conveners of Leaders & Influencers
We increased exposure for those restaurants that participated. For 6 weeks our ad appeared in Champion Newspapers reaching more than 18,000 people multiple times. On Facebook, the Chamber reached more than 30,000 people, had more than 5,000 people engage with our content and had more than 10,000 video views. 
Community members posted more than 100 times on their own social media profiles using the #CVRestaurantMonth and #CVChamberSpecial substantially increasing the exposure our participating restaurants received. 
View #CVRestaurantMonth posts on Instagram – https://www.instagram.com/explore/tags/cvrestaurantmonth/
View #CVRestaurantMonth posts on Facebook – https://www.facebook.com/hashtag/cvrestaurantmonth
Champions for a Stronger Community
We are most proud of the fact that we were able to connect our community with our restaurants. See below for examples of some of the great things our community was saying about #CVRestaurantMonth and the restaurants that participated. And thank you to our community members who left such positive reviews on our restaurants.
Congratulations to those that won gift cards from our restaurants during #CVRestaurantMonth.
Thank you to our sponsors who supported our #CVRestaurantMonth and who continue to support the Chino Valley Chamber of Commerce.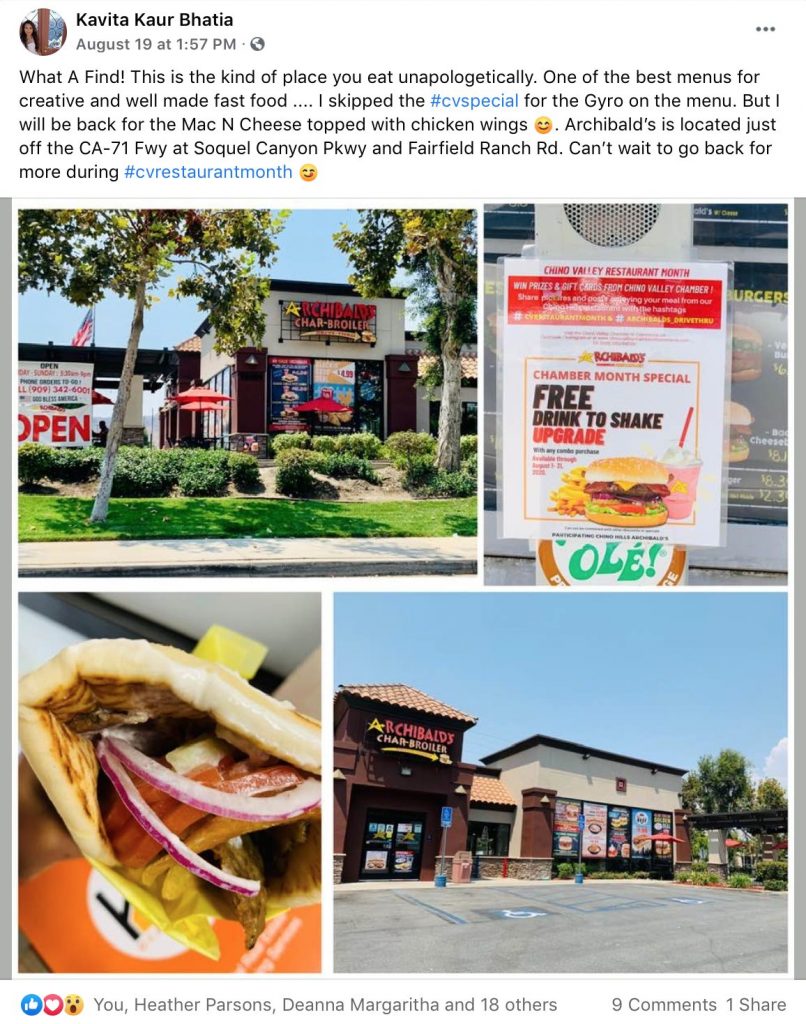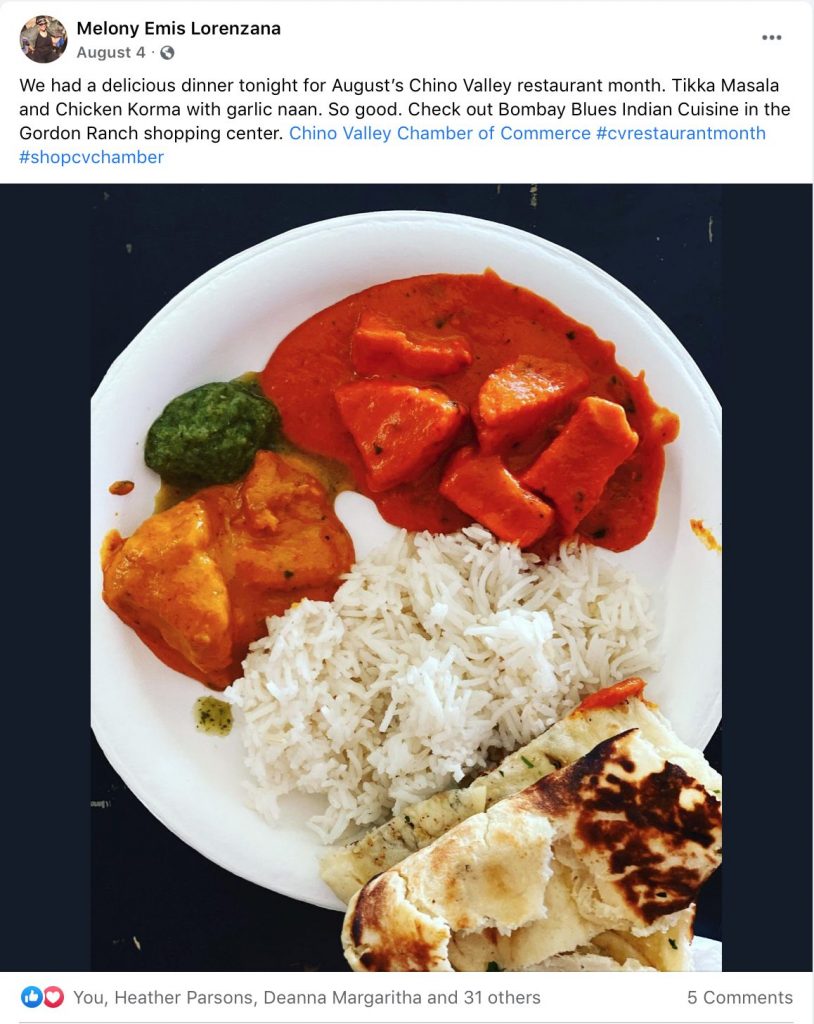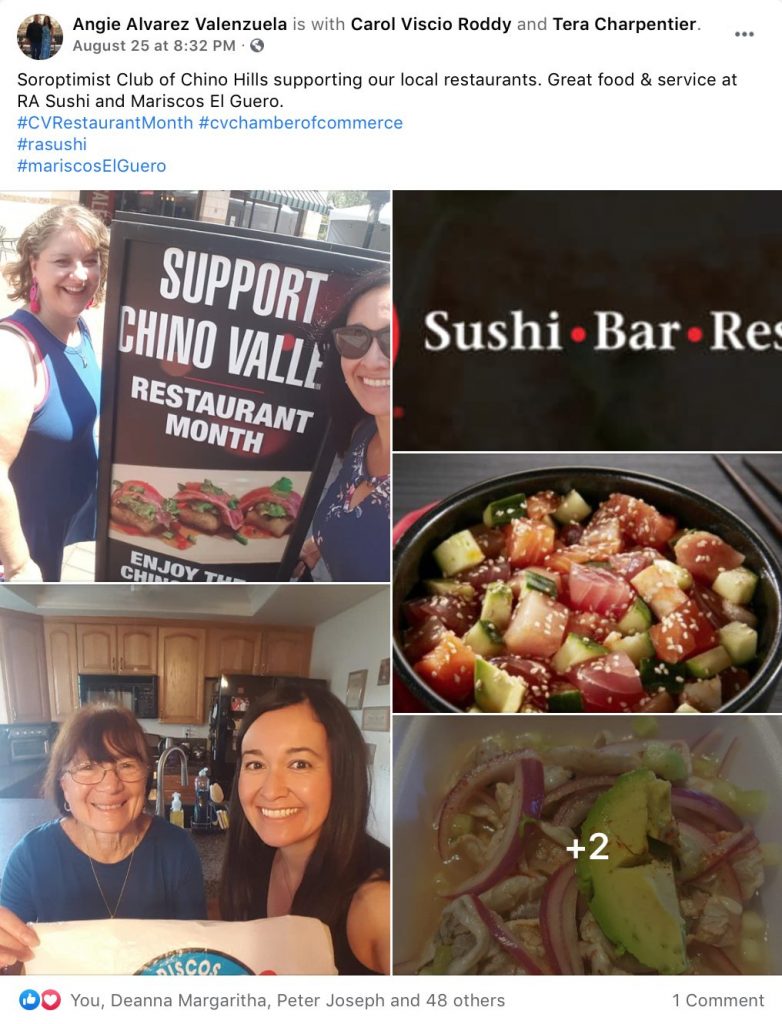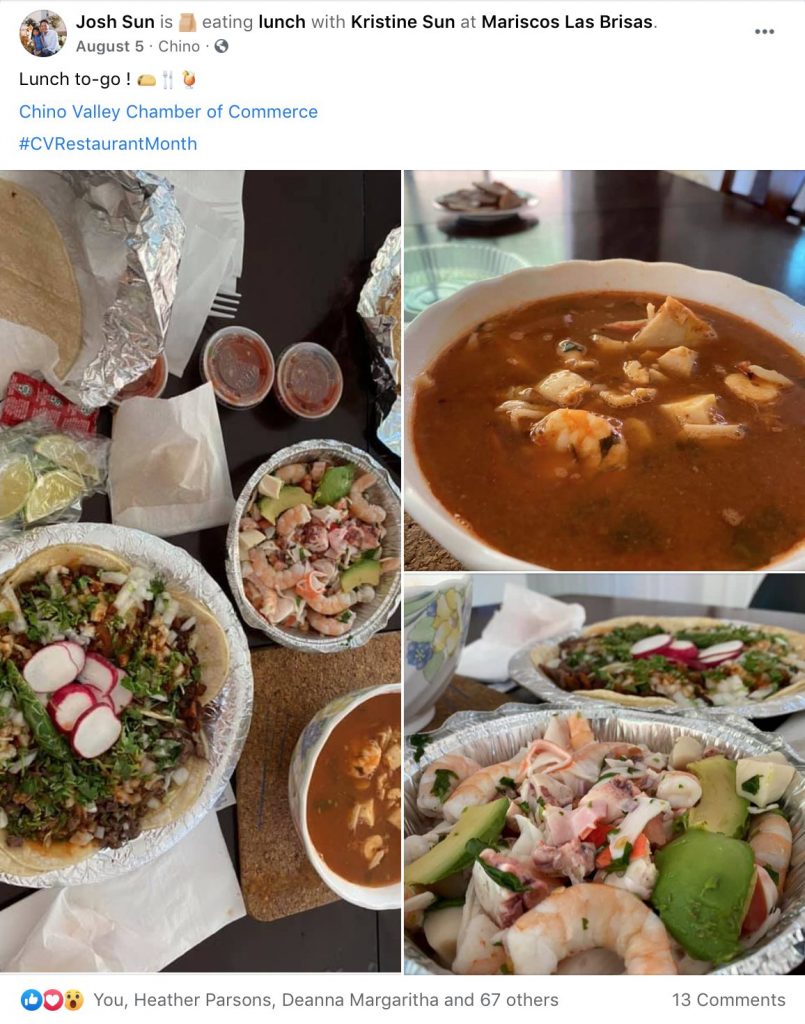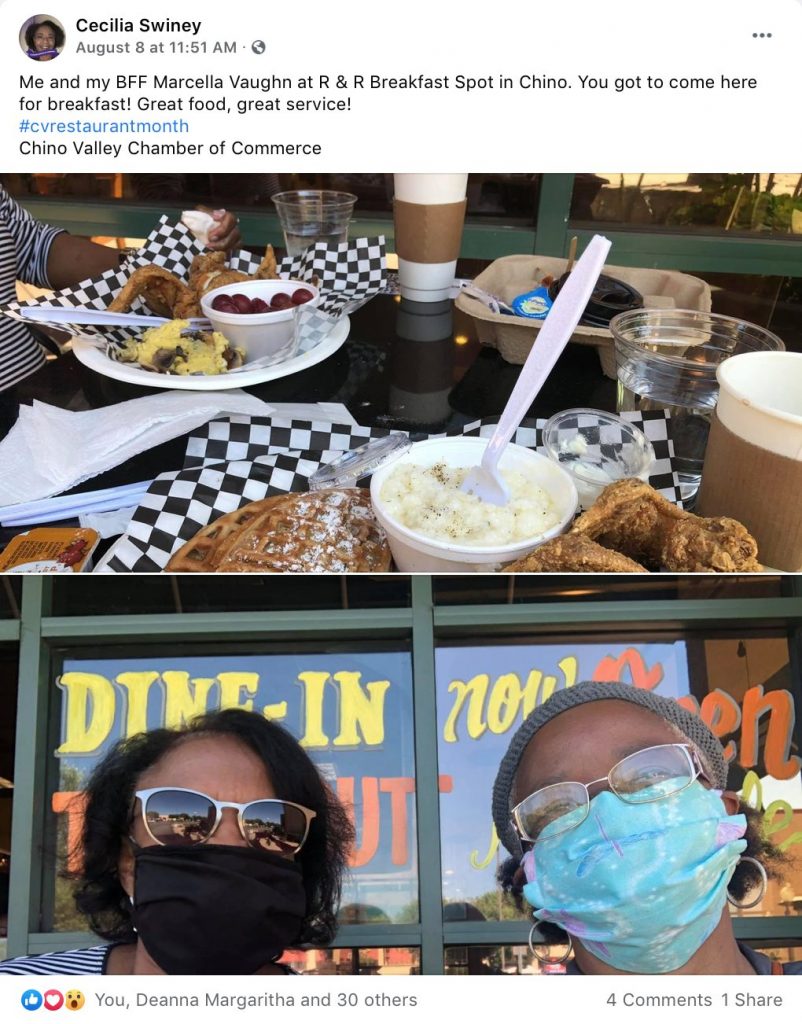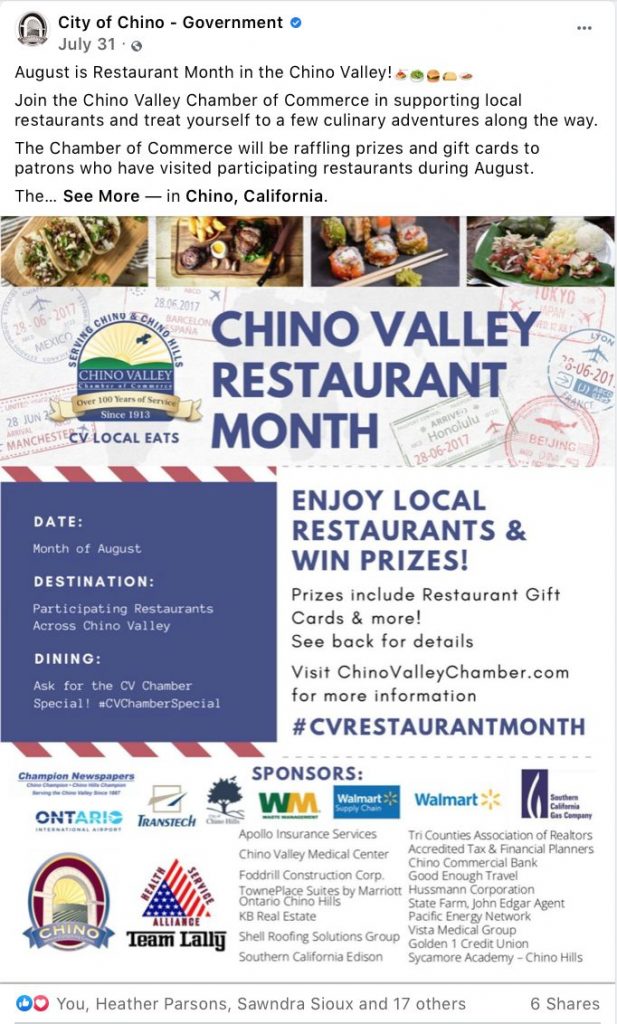 Want to participate next year? Be sure to sign up to be a Chamber member here – https://business.chinovalleychamberofcommerce.com/member/newmemberapp
Send me an email at ZWelborn@ChinoValleyChamber.com to make sure you can participate in #CVRestaurantMonth in 2021.
Learn more about how we were able to support Chino Valley Businesses at the beginning of 2020. Read A Letter from the Chino Valley Chamber of Commerce | Support Local Businesses – https://chinovalleychamberofcommerce.com/2020/06/18/a-letter-from-the-chino-valley-chamber-of-commerce-support-local-businesses/